FJ Cruiser Exterior Accessories Offroad Snorkel Kit GZDL4WD Snorkel
About the Product:
A snorkel system relocates your engine's air intake point from the relatively low and vulnerable position under the
hood to a much higher and safer location where a constant source of cool, clean, dry air is available. Manufactured
from premium quality polyethylene snorkels are incredibly resilient and UV stable. The material used is LLDPE which
is much better than fiber or ABS.
Purpose:
* Improve airflow into the engine
* Help the engine breath easier
* Allow cleaner air into the engine
* Raise the air-intake above the water level
* Improve the performance of your 4x4
Item No.

DL-STFJ410

Car Make

For

Toyota FJ Cruiser

Model

Material

LLDPE Plastic

Colour

Matte Black

Installation

Easy to install, with all fittings

Surface Finish

Matte

Packaging

Normal Export Carton

Free logo printed

Available
THIS SNORKEL KIT INCLUDES:
Air ram intake head
LLDPE Snorkel
Flexible Snorkel to "existing vehicle intake" joining pipe
Stainless Steel intake head and ducting clamps
All mounting studs, screws, washers, clips, nuts & brackets
Nylock Nuts
Fitting template
Detailed fitting instructions specific to the Toyota FJ Cruisers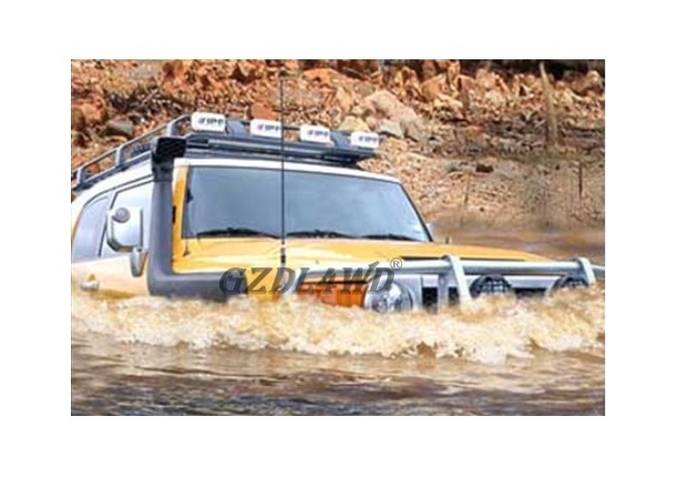 SUITABILITY:
Years: 2006 - On
4.0L V6 Petrol 1GR-FE
Product Description.
-2006 Onwards Toyota FJ Cruiser Complete Snorkel Installation Kit
-Item: Snorkel-DL-STFJ410
- Amazingly low price!
- Comes complete with fitting kit, template and the snorkel head
- Made of High Quality LLDPE Material
- Protect your engine from water & dust
- Cool clean air can increase performance & filter life
- Exceeds the air flow requirements of the factory engine/s
- Our Snorkels are cheaper than rebuilding a drowned engine!
Warranty.
Our company will warrant any part during the warranty period which proves defective in material and/or workmanship under normal
installation, use, service or maintenance. Return alleged defective part to the place of purchase for replacement or refund.
Please have a copy of your purchase receipt available.